UPDATE: nope, unfortunately it is just the Panasonic FZ2500 (unless Panasonic has another superzoom camera secretly under development it plans to release very shortly after the just announced FZ2500??? While an FZ2500 with a constant f2.8 lens would be wonderful, I highly doubt Panasonic is bringing out a new camera for this particular niche so soon after the FZ2500 announcement).
This does however strike me as very odd, that Panasonic lends "The Camera Store TV"  a camera marked "confidential" which has been announced in all its detail, can be pre-ordered, and even has had many multiple hands on reviews online already. So why on earth mark it "confidential"??
Anyway, you can see for yourself by looking at this picture of the Panasonic FZ2500 and comparing it with the image from Jordan Drake, they appear to be the same: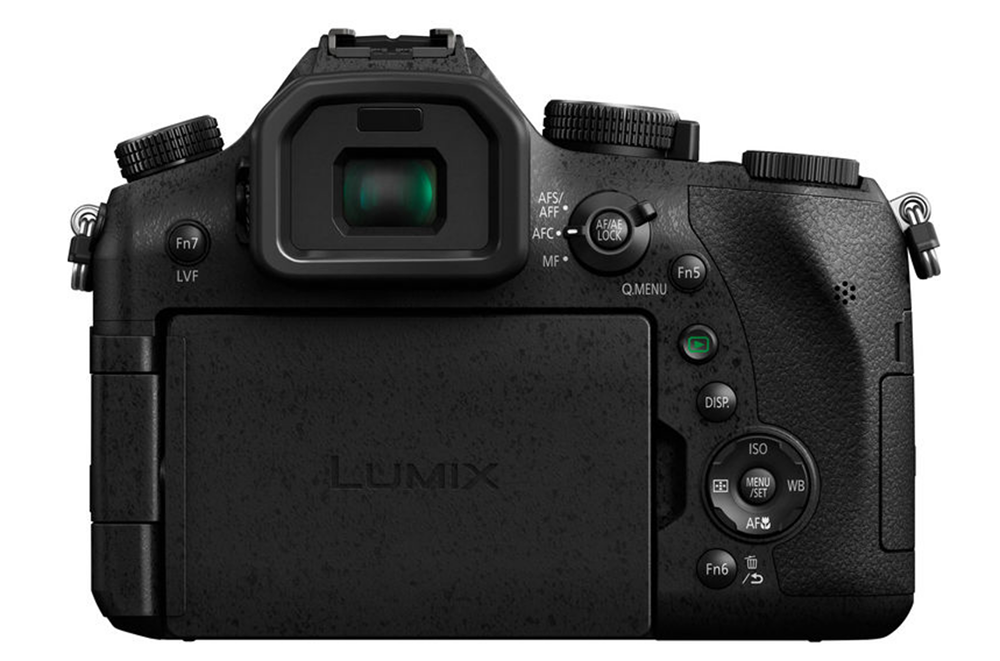 ---
First photo of the Panasonic GH5 in action out in the wild! There had been doubters as to if Panasonic is up to the stage yet of having a prototype Panasonic GH5 body to hand out to outside testers to try out the GH5 for feedback to give Panasonic, well you can't get a clearer confirmation than this: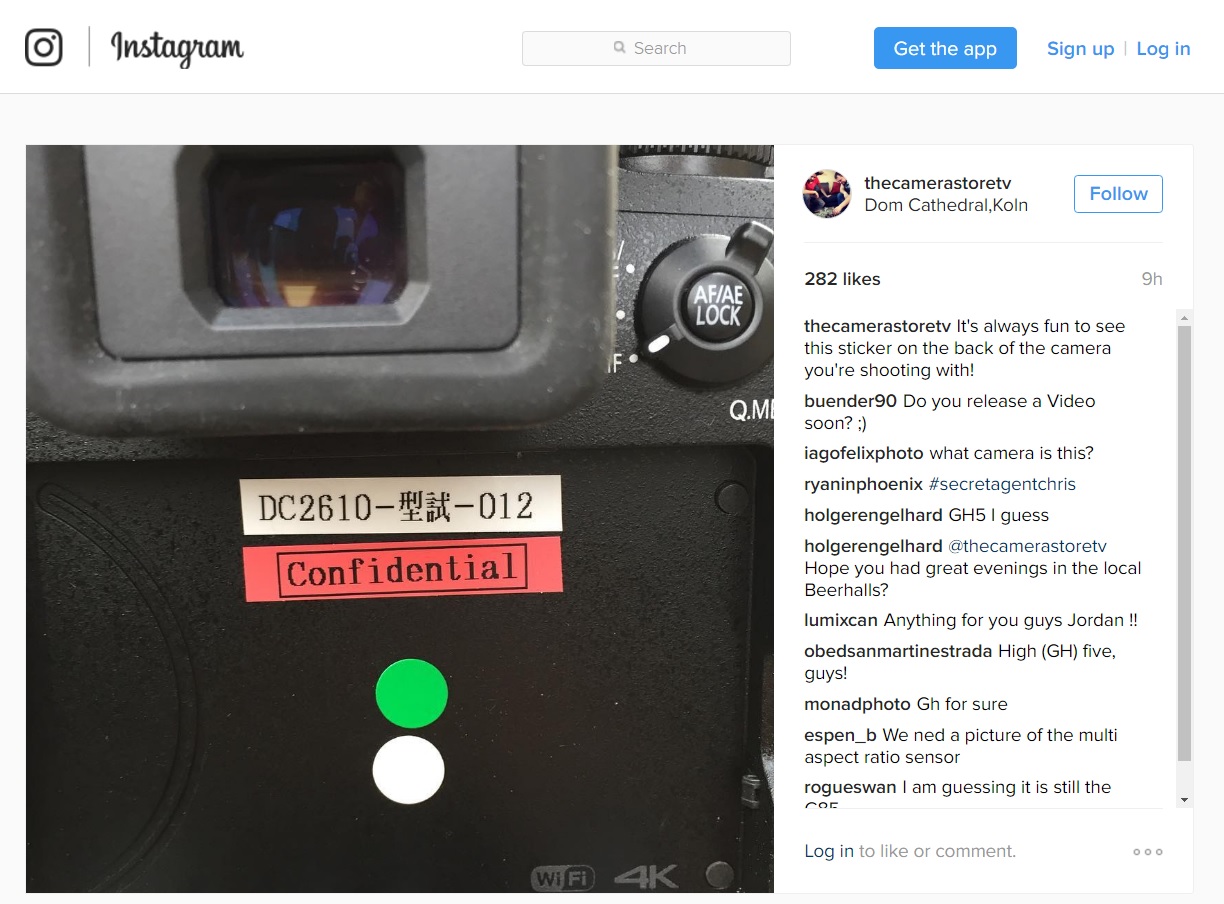 https://www.instagram.com/p/BKvyqb-DPIo/
Clearly by just looking at the picture you can tell it is a Panasonic body! But if you need even further proof of this, you can see Panasonic Lumix Canada's response on Instagram "Anything for you guys Jordan !!" (Jordan is the name of the videographer for The Camera Store TV) and on Twitter:
@TCSTVJordan always happy to help you get the latest gear

— lumixcan (@lumixcan) September 24, 2016
Next question is which Panasonic body is this?? Due to the placement of the viewfinder we can say there are only four possibilities:
1) Panasonic GH4 successor (a Panasonic GH5)
2) Panasonic G80 successor (a Panasonic G90)
3) this is just an old photo taken before the Panasonic G80 announcement (but only now being shared after the G80 announcement)
4) an entirely new line of cameras
As the Panasonic G80 only just came out, and we already saw the Panasonic G7 released after the Panasonic GH4 came out, it seems very unlikely there will be a Panasonic G90 coming out before the Panasonic GH5 is released.
While there is maaaaaybe a chance Panasonic is releasing a new line up of cameras, perhaps their take on a Canon C100 body but with a MFT sensor inside it? That however seems very unlikely.
If you compared this picture with the back of the Panasonic G80, you can see it clearly is not the G80. So we can rule out that possibility.
Thus the only reasonable conclusion we can have, is that this is the Panasonic GH4 successor, and we're seeing here the first ever picture of the Panasonic GH5 body in action (and not just the mock up that Panasonic showed at Photokina hidden in a glass case).
How does this compare to the current Panasonic GH4 body: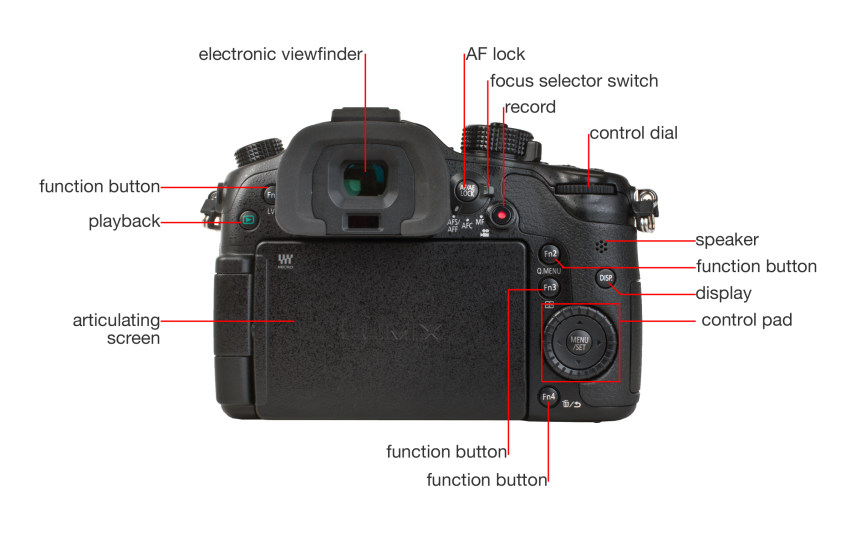 We can see this Panasonic GH5 prototype has moved the Q.MENU button up to be next to the AF/AE LOCK button, and thus presumably the record button has been moved elsewhere? I wonder where…. presumably on the top, like we can see here on the Panasonic GH5 mock up shown at Photokina:
(one small notable difference between these two pictures however is that Photokina Panasonic GH5 mock up appears to have a button (small joystick?!) located between the AF/AE LOCK and the EVF, however you can't see this in the Instagram picture? Unless maybe the angle of the photo means it is obscured by the eyecup, but I doubt it)
Couple of key conclusions we can take from this is that Panasonic is well developed along their process of bringing out the Panasonic GH5, so we can be very confident it is indeed on track to be released in the first half of 2017, and that it is very encouraging that Panasonic is actively seeking out and getting feedback from a wide range of top notch users (such as Jordan Drake, Illya Friedman, Griffin Hammond, Luke Neumann, Chris Niccolls, & Nick Driftwood, just to name a few). Means the Panasonic GH5 is sure to be an excellent and well polished product when it is launched! (just like the GH1/GH2/GH3/GH4 have each been!)