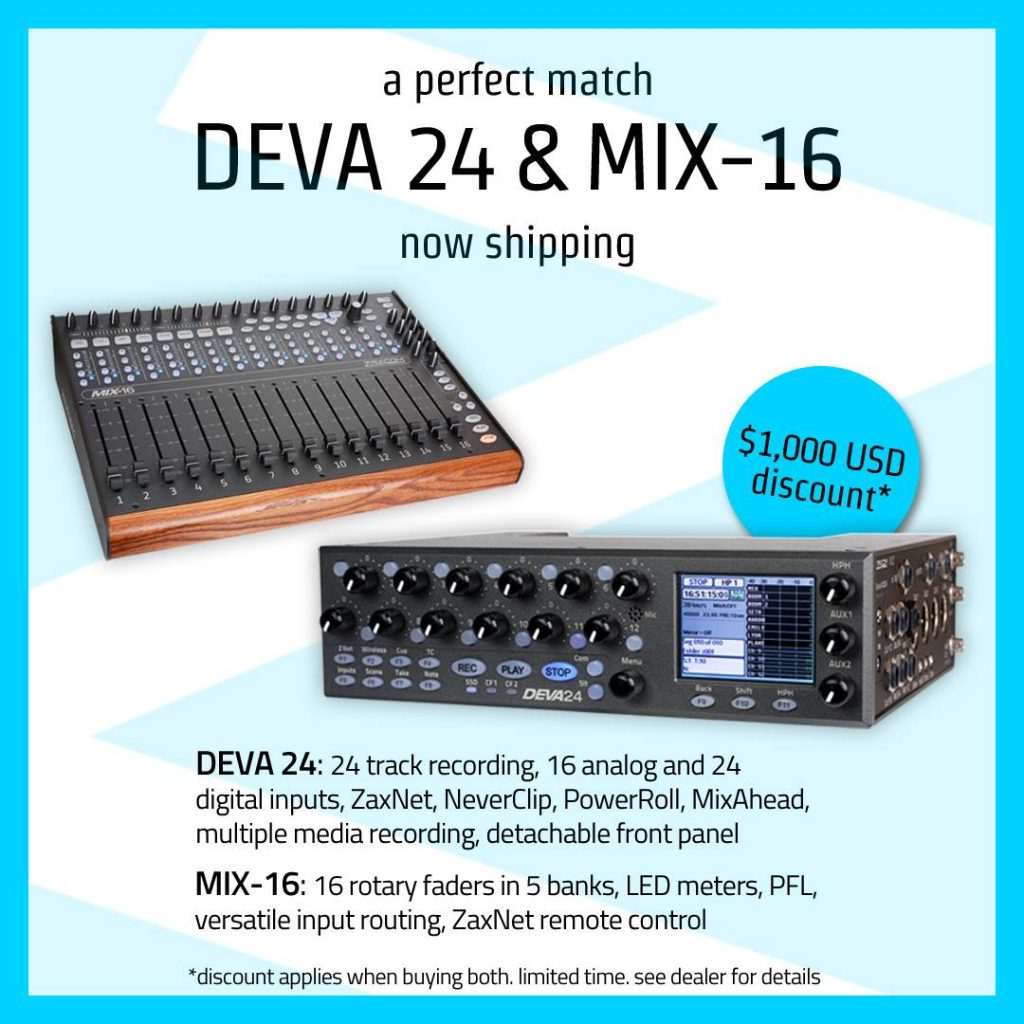 Now for news at the opposite end of the pricing spectrum (almost tens times more expensive!) to the Sound Devices MixPre10M announcement today is the news that finally the Zaxcom DEVA 24 & Zaxcom MIX-16 are in stock and shipping! After what feels like YEARS of Zaxcom teasing us this coming.
With a retail price of US$12K for the Zaxcom DEVA 24 recorder this won't be for everyone, rather will be competing against the likes of the Sound Devices 688, Sound Devices 970, Aaton Cantar X3, and others. But not directly competing though as the DEVA 24 is Zaxcom's own take on this, the DEVA 24 is itself quite unique from those others.
Press Release:
Based on its Academy and Emmy award-winning predecessors Deva 24 can record pristine 24 track audio and has a plethora of advanced features including flexible input/output routing, ZaxNet™, NeverClip™, PowerRoll™ and MixAhead™.

Deva 24 provides 16 analog inputs, 12 of which are switchable mic or line level with adjustments for high pass filter, limiter, input delay and 48V phantom power. Four additional line level inputs can be used as returns. Thanks to NeverClip™ preamps, it offers a staggering 136 db of dynamic range.

Digitally, 24 inputs channels of AES are available on the unit, 16 support AES42. Deva 24 also accepts any unlocked AES signal with a sampling rate of 32 to 192 kHz.

10 output busses offer routing versatility through four XLR, three TA-5M and three 3.5mm connectors. Outputs feature delay settings, level attenuation and assignable output names.

Dependable delivery

Audio can be recorded to three media simultaneously. An internal 2.5" SSD (1TB max capacity) is the primary media paired with two compact flash (CF) card slots. Files are recorded as MARF II, a lossless fault tolerant recording format to the internal drive and as Broadcast Wave files (BWF) to the CF cards. An eSATA port provides an external hard drive (SSD or HDD) option that takes the place of a single CF card slot.

Immersive mixing

Deva 24 has an integrated mixer where 12 rotary faders can be assigned to act as a fader, input trim knob or a ZaxNet™ control knob. The rotary encoder allows you to adjust the compressor settings, input trim and invert the phase of an input.

8 tracks provide an infinite mix of all Deva 24 inputs, while 16 tracks are dedicated to ISO routing. Any of the 16 analog or 24 digital inputs can be assigned to an ISO track as either pre or post fader.

Familiar functionality

Users of previous Deva systems will enjoy the familiarity of its design and intuitive software. Deva 24 has a detachable front panel interface and a touchscreen menu system that's fast, easy to learn and extremely reliable for any type of audio workflow. It also allows you to connect a compatible MAC or PC to control it remotely via a USB cable.

Seamless integration

Combined, the Mix-16 control surface is a versatile extension for Deva 24. Featuring 16 motorized faders in five banks, any combination of analog or digital input channels on the Deva 24 can be assigned to the Mix-16. This provides sound recordists with an integrated recording and mixing solution capable of solving many audio challenges.

Each fader on the Mix-16 has a bright LED input meter and the control surface is equipped with a pre fader listen (PFL) monitoring system that allows you to listen to channel audio before the fader is closed. It also has the ability to control the ZaxNet™ remote control function of Deva 24.

Pricing and availability

Zaxcom's Deva 24 and Mix-16 are available now. Receive a $1,000 USD discount when purchasing both before April 13, 2018. This new technology and more from Zaxcom will be on display April 9-12 at NAB Show in Las Vegas, Booth C3927.