An interesting content tag has been spotted on the Sound Devices website:
https://www.sounddevices.com/component/tags/tag/tn-mixpre-10t
Took a screenshot just in case it might disappear: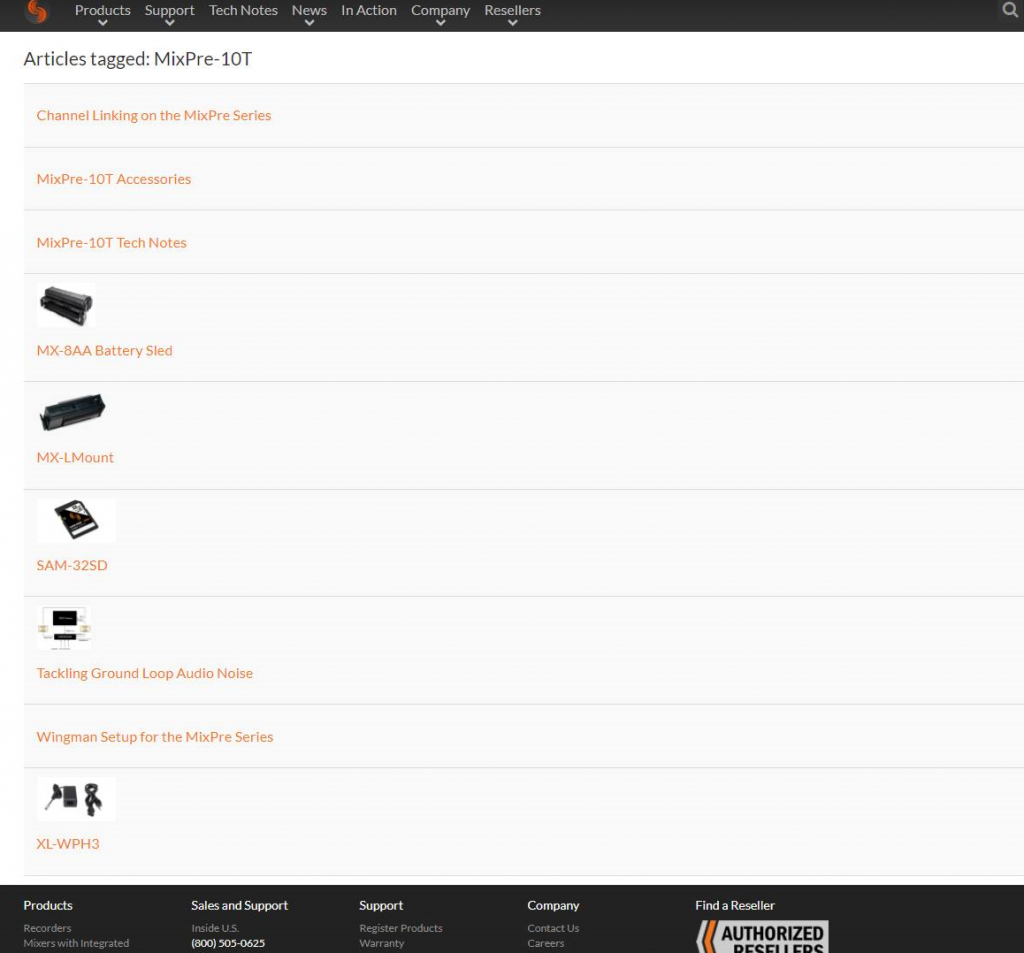 From this info we can fairly easily deduce this is likely:
Uses AA / Sony L-type batteries.
And works with the Wingman app.
From the name I will guess it does 10 tracks, and has a time code generator built in (unlike the MixPre6 or MixPre3, which need time code to be permanently sent to it, as can't keep TC accurately otherwise. Which is great news the next MixPre will have TC built in, as I was disappointed to realise the MixPre6 will lose tracks 5/6 if you need TC while it is in your bag).
Annoyingly when you click on the "MixPre-10T Tech Notes" link you get asked for a username and password:

Wonder how many XLR inputs it would have? I am very extremely doubtful it would have all 10 inputs be XLR inputs (like the Zoom F8 does with all its 8 inputs), likely only a few will be powered XLR inputs just like with the MixPre6, 663, and a number of their other products. Probably at least four will be XLR inputs, as that is what the MixPre6 has (but then again the 633 only has 3x full sized XLR inputs), and the rest will be something else like 1/4″, 3.5mm, or TA3F (I'm highly skeptical if we'll see a digital input such as AES3/AES42 in a low end recorder series such as the MixPre).
Hmmmm…. I wonder what the price will be? I might have found my upgrade path forward from my Zoom F4! Depending on the exact mix of features/price that the MixPre10T has.
Presumable the price will between the Sound Devices 633 at US$3.3K and the MixPre6 at US$900, but that is a massively price gulf! And likely the reason why Sound Devices is bringing out such a product, to fill this niche?!
You will wonder what will the MixPre-10T would be missing so that it doesn't compete too strongly with the 633/688, I imagine output options and Dugan automix would be a couple of many ways they could differentiate their products.
When will this Sound Devices MixPre-10T came out? If some details are already being put onto their website (and Google cache tells me it has been up since at least the 5th of September 2017) then you would assume the MixPre-10T is already reasonably far along with its development. However actual release might not be days away, but still months away. So I'd predict/hope the MixPre-10T will be announced by at least next years NAB 2018 in early April.
A little quirk in the URL that I'm wondering about is this, compare:
https://www.sounddevices.com/component/tags/tag/tn-mixpre-10t
https://www.sounddevices.com/component/tags/tag/mixpre-3-tn
https://www.sounddevices.com/component/tags/tag/mixpre-6-tn
Both the MixPre-6 and the MixPre-3 have the letters "tn" at the end, but the MixPre-10T puts it at the start! Why??
Does the Sound Devices MixPre-D give us a clue:
https://www.sounddevices.com/component/tags/tag/tn-mixpre-d
Hmmmm……. same pattern with the "tn" in the front like with the MixPre-10T?Does this mean the MixPre-10T is going back to its roots and is not a recorder but instead just a mixer / USB interface like the MixPre-D is?
I don't think so, am probably just going a teeny bit crazy overanalyzing these tiny details and in reality this difference means nothing at all! Ha.
Because the name "MixPre-10T" with a "T" at the end very strongly indicates it is a recorder with time code in it, and not just a mixer, as we've seen from the past naming of the Sound Devices 788T / 744T / 702T. But Sound Devices has never ever released a mixer with a "T" at the end of the name.
But if you feel there is some deeper meaning as to what these "tn" letters mean, then hit me up in the comments and let us know!
Anyway, I'm looking forward to hearing more about the MixPre-10T when it does finally get announced. I'll update my current overview of all the lower end recorders when it happens:
http://ironfilm.co.nz/which-sound-recorder-to-buy-a-guide-to-various-indie-priced-sound-recorders-in-2017/
Also worth checking out is my vlog from when I went to the Pro Sound Expo in Auckland recently, which features the Sound Devices MixPre-6:
And finally but not least, here is my favourite recorder in this price segment at the moment, my Zoom F4 getting unboxed: