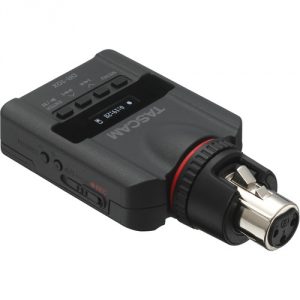 Spotted this text from a Saramonic employee on Facebook: "It provides XLR connector and 48V phantom power, recording 24bit/48kHz wav audio files to MicroSDHC card, capacity up to 32GB" (minor tweak by myself to fix her typo)
The name of this new product is going to be "Saramonic SR-VRM1".
I'm guessing as it only provides one XLR connection (assuming the grammar is correct here…. that it is singular, not plural. Not always 100% accurate to make this grammar assumption about all products out of China, but it is a reasonable conclusion to leap to!), that it is going to be a very small recorder, perhaps a competitor to the Tascam DR-10X but at an even lower price point?
http://www.bhphotovideo.com/c/product/1086779-REG/tascam_dr_10x_dr_10cx_plug_on_micro_linear.html
What I hope for one day is a lower priced alternative out of China for the Tascam DR-10CS, which unfortunately is tied up with legal issues caused by Zaxcom in the USA which prevents its sale there, except in other countries such as the UK:
https://www.amazon.co.uk/Tascam-Connection-Lavallière-Microphones-Anthracite/dp/B00QV8L586/
As if priced low enough, it could provide a good budget alternative for those non-wireless "wireless" lav scenarios which people are using Zoom H1 recorders for (as I've done a few times myself at weddings, & similar scenarios):
http://aspenmics.com/products/belt-clip-for-zoom-h1-handy-recorder
A few important points I'd like to see the Saramonic SR-VRM1 have:
As well as internal power (AA battery?), a way for it to be externally powered as well (even if it is as simple as a USB port to power it by. But please not mini USB! Make it be at least Micro USB sized, or even better full size USB). That way we can use it for long recording takes unattended, until the card fills up. Or can be used in your mixing bag as an small back up recording, without needing to concern ourselves about keeping batteries topped up.
Some way to pass out audio (just like the Tascam DR-10CS has, and many other recorders), ideally XLR, but even just a 3.5mm output would be ok & better than nothing.
Have both one XLR input, and one 3.5mm (a locking 3.5mm please!) input, so we've got that choice.
Update:
Saramonic confirmed it is coming soon with this tweet which links to my tweet of this blog post:
Coming soon! https://t.co/d6OcjSaV8c

— Saramonic (@Saramonic_intl) August 8, 2016