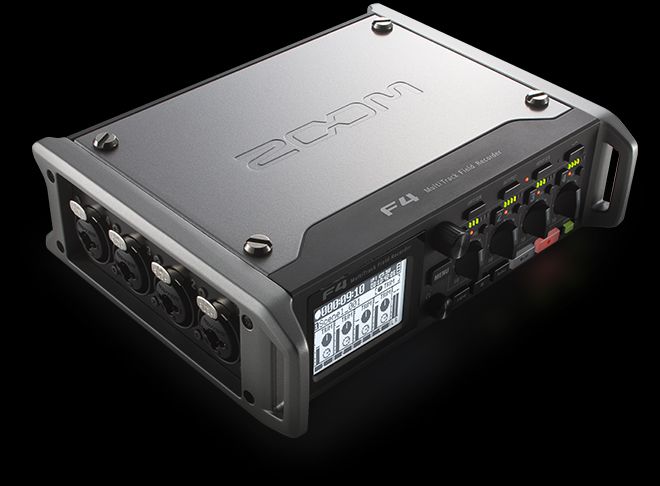 News got leaked accidentally by B&H that a new Zoom F4 is coming.
I thought the Zoom F8 when it was announced was a groundbreaking new recorder in what it brought to a new low price point for soundies.
Now the F4 is even cheaper (US$650 vs US$1K), and has nearly everything the F8 has! Except for most notably the lack of extra XLR inputs (8 vs 4, thus the names: F8 vs F4. The "F" = field recorder, "H" = handheld recorder such as H1/H4n/H5/H6) and the lack of an app for the F4 to mix on a tablet like you can with the F8. Oh, and in a more minor point the F4 has a monochrome screen vs the 4 color screen of the F8.
But everything else (such as pre amps, and time code) is basically exactly the same as the F8! Some things are even an improvement, such as adding camera return to the F4 that was missing from the F8, adding extra short cut keys to the top of the F4, and using XLR outputs instead of the TA3 outputs the F8 has.
Having the missing XLR inputs from the F8 is not such a big deal for many prospective F4 buyers, as 4 XLR inputs is plenty for many small/medium jobs. And when you need a bit extra, adding in two more XLR inputs for a total of 6 XLR inputs is cheap to do with the Zoom EXH-6:
https://www.bhphotovideo.com/c/product/981648-REG/zoom_exh_6_dual_xlr_trs_input_capsule.html
The F4 is positioned quite interestingly, as it has nearly everything from the F8 (except for the extra XLR inputs and the tablet app), yet the F8 is a small enough bump up in price it will tempt a fair few people to spend a little more for those couple of extra features…   however for many other people the F4 will suit them perfectly, as they won't need more than the usual 4 (or occasional 6) XLR inputs and they won't be using a tablet for mixing (but I would like to use a tablet for entering metadata! Hmmm…).
Andrew Jones (who was one of the testers of the F4 for Zoom) said it is almost the same size as the F8, but (strangely!) is a tiny bit heavier. I guess cutting out a few XLR inputs does not save much weight, but where does the extra weight come from? Maybe it is more robustly built?
Crazy idea time: what next for Zoom after the Zoom F4? Is a "Zoom F2" next? The idea might sound hilarious! But being serious now, if it is bag friendly (a very small bag!!), ultra lightweight, and very cheap (perhaps US$400ish? Keeping the 50% price jump ratio from F2 to F4 to F8), then a Zoom F2 certainly would be popular!
For many jobs 2x XLR plus an extra stereo input (for up to 4x ISO tracks) would be plenty! (Plus a L & R XLR output, plus Timecode, etc… just like the F4)
Heck, for the last couple of days I've been doing a job with my Sound Devices 552 which only needed the one XLR for the boom to be recorded, plus one XLR output to be sent to the Sony F3 as a reference scratch track.
A "Zoom F2" would even be overkill for that! Could you pretty please make this "F2" dream come true Zoom?

Blurb and specs list from B&H (page is currently down, you need to use Google cache to view it):
Designed to provide big Hollywood sound on an affordable indie budget, Zoom F4 is a 6-input / 8-track professional field recorder featuring super-low-noise preamps and timecode with pinpoint accuracy. The unit provides recording and playback resolutions up to 24-bit/192 kHz with impressive audio specs including an extremely low noise floor (-127 dBu EIN) and high gain (up to +75 dB), with +4 dB line-level inputs. The on-board temperature-compensated crystal oscillator (TCXO) generates timecode at 0.2 ppm accuracy and supports all standard drop-frame and non-drop formats, as well as jam sync for external devices.

The advanced on-board limiters provide overload protection for all inputs and outputs, which lets you capture audio in a wide range of environments. Limiting can be applied simultaneously at full resolution with 10 dB of headroom and features controls for setting threshold, attack, and release.

The F4 offers four combo XLR-1/4″ inputs, a 1/8″ stereo input, and includes a Zoom mic-capsule input for recording six discrete tracks with an additional stereo mix, all at full 24-bit/192 kHz resolution. Additionally, inputs 5/6 can function as a camera return for audio monitoring only for confidence checks. The dual-SD card slot features simultaneous recording to both cards allowing you to make a backup or split recording with all eight tracks on one card and a stereo mix on the other.
Each of the four XLR-1/4″ inputs offers a dedicated preamp with gain control, phantom power, a six-segment LED level meter, plus a Record Ready and PFL switch. In addition to the 1/4″ headphone output with a dedicated volume control, the F4 provides two main balanced XLR outputs, as well as two sub outs on a single unbalanced 1/8″ stereo mini-jack, enabling easy connection to a camera. All timecode I/O is provided on BNC connectors and the unit includes a variable-frequency slate-tone generator to confirm levels.

An easy-to-read 1.9″ LCD display is suitable for use in all lighting environments including dark low-light sets to bright sunlight. The on-board mixer not only provides user-adjustable level, pan, and input/output delay, but also offers high-pass filtering for noise and wind reduction, phase inversion, and Mid-Side decoding. The F4 ships with a camera-mount adapter, AC power adapter, and download codes for Cubase LE and Wavelab LE.

Six-input / eight-track multitrack field recorder with integrated mixer

Six discrete inputs, including four with locking Neutrik XLR/TRS combo connectors, a stereo 3.5mm input, and Zoom mic-capsule input

Compact and lightweight metal chassis, weighing just two pounds (without batteries)

High-quality mic preamps with up to 75 dB gain, less than -127 dBu EIN, and +4 dB line inputs

Support for up to 24-bit/192 kHz recording as well as 96, 88.2, 48, and 44.1 kHz, plus 47.952 and 48.048 kHz for HD video compatibility; 16-/24-bit resolution

Accurate timecode (0.2 ppm) I/O on standard BNC connectors; dropframe/non-drop formats with Jam Sync

Two different power supply options: 8x AA batteries or external DC battery pack with 4-pin Hirose connector

Dedicated gain control knob, 6-segment LED level meter, and PFL/Solo switch for each channel

Phantom power (+48V/+24V) on every preamp

Advanced on-board limiters for input and output

High-pass filter, phase invert, and Mid-Side decoder

Input delay of up to 30ms per channel / output delay of up to 10 frames per output

Compatible with all Zoom mic capsules; optional ECM extender cable enables remote positioning

Dual XLR balanced Main Outs plus 1/8″ stereo mini-jack Sub Out

Dedicated headphone output (100mW) with front-panel volume control

1.9" white, backlit monochrome LCD

Dedicated PFL display with viewable trim settings

Dual SD/SDHC/SDXC card slots, up to 512GB each

Records in BWF-compliant WAV or MP3 file formats

Support for extensive metadata (BWF and iXML); input time, date, project, scene number, etc.

Built-in tripod mount; camera-mount adapter also included

Use as a 6-in/4-out USB audio interface (@ 96 kHz)
Edit: ah ha! The Zoom page for the F4 is now up.
https://www.zoom.co.jp/products/field-recording/zoom-f4-multitrack-field-recorder
Edit 2: now a few minutes ago Zoom tweeted the announcement.
Hollywood Sound Goes Indie.
The new #ZoomF4 puts professional-quality sound well within reach. #ZoomCreators pic.twitter.com/8iYZAm27TC

— Zoom (@ZoomSound) September 6, 2016
Edit 3:  and now the B&H product page is live.
https://www.bhphotovideo.com/c/product/1260110-REG/zoom_zf4_f4_multitack_field_recorder.html