With the popular success of the Panasonic GH4 with video shooters, the rumour mills have been running for a while now that Canon will respond with their own camera to beat the GH4. Well, it is officially announced now…. the Canon Cinema EOS XC10.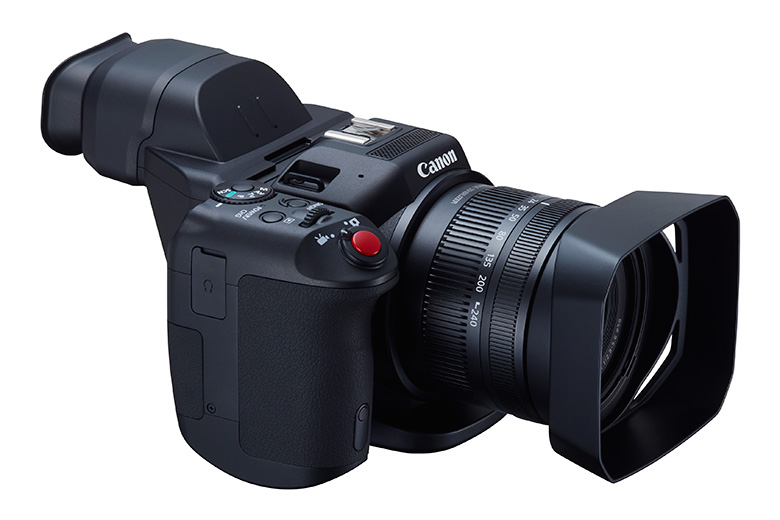 The Canon Cinema EOS XC10 has a few nice things about it. However, immediately from looking at the specs these factors stand out to me:
Slow f/5.6 at the end of the zoom.
No other lens option, as it is essentially a bridge cam, with one permanently attached.
Only one ND setting, and off.
No XLR
1″ sensor
Doesn't use normal cheap SD cards, needs expensive CFast cards for 4K (SD only work with 1080).
No raw photos! (which kills of the whole concept of this being a hybrid camera. If you can't shoot raw stills, why even bother with the hotshoe which is compatible with Canon's speedlites??? Very strange combo!)
The XC10 also uses yet another new H.264 format:
http://www.canon.com/news/2015/apr08e.html
Too many black marks against the Canon Cinema EOS XC10 in my view. One or two of these factors and the XC10 might still overall make enough sense to consider. But not like this. It certainly will not be a "GH4 killer", and the XC10 is lacking as a better run and gun option, neither does the XC10 fit into a cheaper niche. Because it has an expected price of "around £1599.99" (£1999.99 with a 128GB CFast card).
Better off getting a Panasonic FZ1000 / Sony RX10 / Panasonic LX100 for much less. Or spending the same and getting a Panasonic GH4 / Samsung NX1 with lens or a Sony PXW-X70 / Sony FDR-AX100 (with Sony XLR-K2M).
Plus the Canon Cinema EOS XC10 won't go on sale into June 2015
But who knows how it really will go? As Canon does have a knack for releasing cameras with disappointing specs sheets for their inflated prices, that then sell better than it would suggest.
Check out the link for Canon's press release and more info:
http://cpn.canon-europe.com/content/news/canon_launches_the_innovative_xc10.do
Canon Australia has on their YouTube channel a sample video:

Currently has more thumbs up and than thumbs down on it…. yeah, can see the reaction too from the comments:
"I had to watch some A7s videos to stop my eyes being hurt )="

"I use Panasonic GH4, and I think this camera is not a big deal. I compared the quality, GH4 much more impressive, and sharper in 4K."

"It looks like Galaxy S6 4K footage… So disappointing…"

"Unless it's turned off, you're not selling the IS with 1:00"

"Ok its like home videos from hell quality. very "video" like and "artificial" feel to it.. Its a another fail from Canon….. Nothing cinema feel here. Move along, nothing to see here…."

"my goodness this promo video looks & sounds about 20 years old… not a good video to promote an "exciting" new camera"

"This video is so f*ck*ng *** I'm selling all my Canon gear and buying a GH4 and A7S and a NX 1."
Commenters on the internet can be so polite sometimes!
Canon USA have uploaded an "introduction to XC10" video: