The Samsung NX1 has been getting attention on both the photography side for having the highest resolution APS-C sensor on the market (28 megapixels, greater than any full frame Canon DSLR!), but even more so on the film side for being the second system camera after the Panasonic GH4 to have internal 4K recording.
Now it appears that Samsung is bringing out a cheaper version of the Samsung NX1 called the "NX500" with a lot of the benefits which made the NX1 so great!
Here are the leaks:
Over in Italy there is a promotional offer:
Nella presente Operazione il prodotto promozionato è la Smart Camera NX a marchio Samsung modelli NX1, NX30, NX300, NX500, NX3000, NX3300.
Which Google Translate tells me means "In this operation the product being promoted is the Smart Camera Samsung NX-branded models NX1, NX30, NX300, NX500, NX3000, NX3300."
Now neither NX500 or NX3300 are cameras which Samsung currently makes! Yet it says the promotion is "Dal 12 gennaio 2015 al 31 marzo 2015 inclusi" ("From 12 January 2015 until March 31, 2015 included."). I'm guessing somebody slipped up and including cameras which are not out, but will be available to buy before the promotion ends on March 31st.
We can get a better guess at exactly when they do ship as this store in the Netherlands has already put up the option to pre-order them along with expected shipping dates: Shipment date in the Netherlands is 30 January 2015 for NX3300 at €449 (already down from €600??) and 6 March 2015 for NX500 at €749 (already down from €999??).
Sadly these links lack any specs info, except for the Dutch Photo Semeins store which says the NX500 has a "28 megapixel BSI APS-C" sensor. Which very strongly indicates it will have the same sensor in it as is in the Samsung NX1!
But… Photo Semeins isn't the only Dutch web store with info up about these new Samsung cameras! (what is it with these Dutch stores huh? I'm guessing it is somebody at Samsung Netherlands who let the info out too early)
The Dutch store Foto Tuerlings also has info available about the Samsung NX500: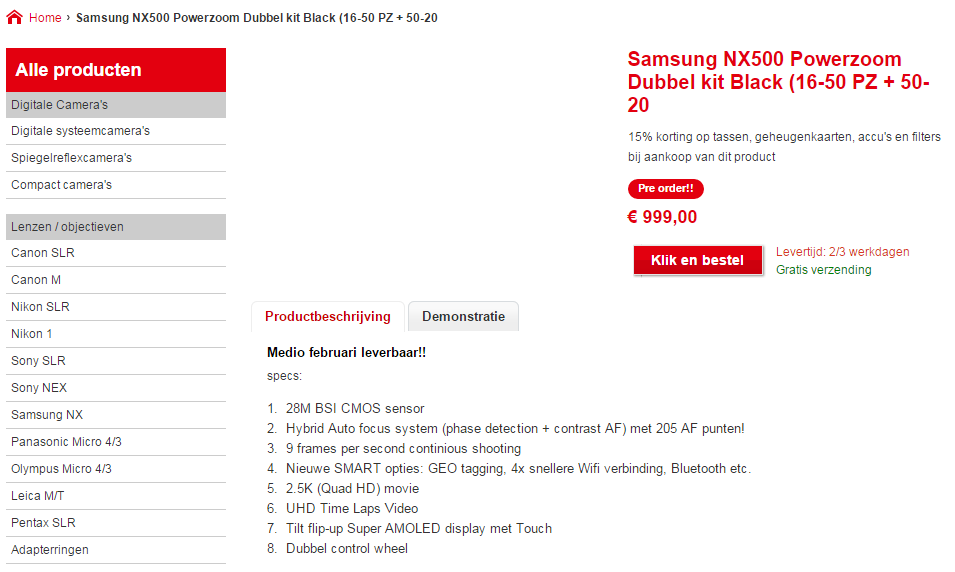 Translated this says:
In mid-February available !!
specs:

1. 28M BSI CMOS sensor
2. Hybrid Auto Focus System (Phase Detection + Contrast AF) AF 205 points!
3. 9 frames per second shooting continious
4. New SMART options: GEO tagging, 4x faster WiFi connection, Bluetooth etc.
5. 2.5K (Quad HD) movie
5. UHD Timelaps Video
6. Tilt flip-up Super AMOLED display with Touch
7. Double control wheel
First of all, these are same nice looking specs for a budget priced camera!
What exactly "Quad HD" is and what exactly "2.5K" is can vary a little depending on who you ask, just like how the meaning of "4K" can vary by a few pixels here and there.
So the Blackmagic Cinema Camera for instance is 2.5K and is 2432×1366.
Quad HD is also knowns as QHD, or even as short for WQHD (Wide Quad HD), or 1440p. To quote Wikipedia for more info:
…is a display resolution of 2560×1440 pixels in a 16:9 aspect ratio. It has four times as many pixels as the 720p HDTV video standard, hence the name.
Thus Quad HD is 4x HD (720p) but is not the 4x FHD ("Full HD", i.e. 1080p) or "4K" that you might hope for.
None the less, having Quad HD / 1440p is very handy for a filmmaker who is providing FHD output! As it gives you a better quality HD file, and extra room in post to play around with stabilisation or other aspect rations without dropping below FHD resolution after cropping.
However… maybe Foto Tuerlings got it wrong, and it has 4K as well as "2.5K"?
After all, Samsung itself leaked that the NX500 has 4K:
Sensitivity: ISO 100 – 32000
Highest Sensitivity: Manually ISO 32000, ISO 25600 Auto ISO limit
Top shutter speed: ISO 1/4000
Video: 4095×2160 (24p), 3840×2160 (25p / 30p), 1920×1080 (50p / 60p), 1920×1080 (25p / 30p)
And back last month there was rumours of the Samsung NX400 (which would actually be info for the NX500 we would assume) that said it too has 4K (and will be released in February). But… the day before a different website said their rumour it is will not have 4K! (and they said it will be released in January instead)
So will it have 4K or not? Hopefully it will! Fingers and toes crossed.
Anyway, it is a camera to keep your eye on! If it does have 4K, this might be my first 4K camera? (especially once it goes on sale at a reduced price for the body only) As while I've purchased a Sony A7s, it will need an expensive Atomos Shogun as its external recorder to do 4K. (although… if the soon to come Sony A7000 surprises us and has internal 4K, maybe I'll be getting that? I've got high hopes for the A7000, just add IBIS and 4K!)
UPDATE (18th of January):
PhotoRumors.com has released 3D renders of what the NX500 is meant to look like:
Additionally, you can now pre order it from B&H: