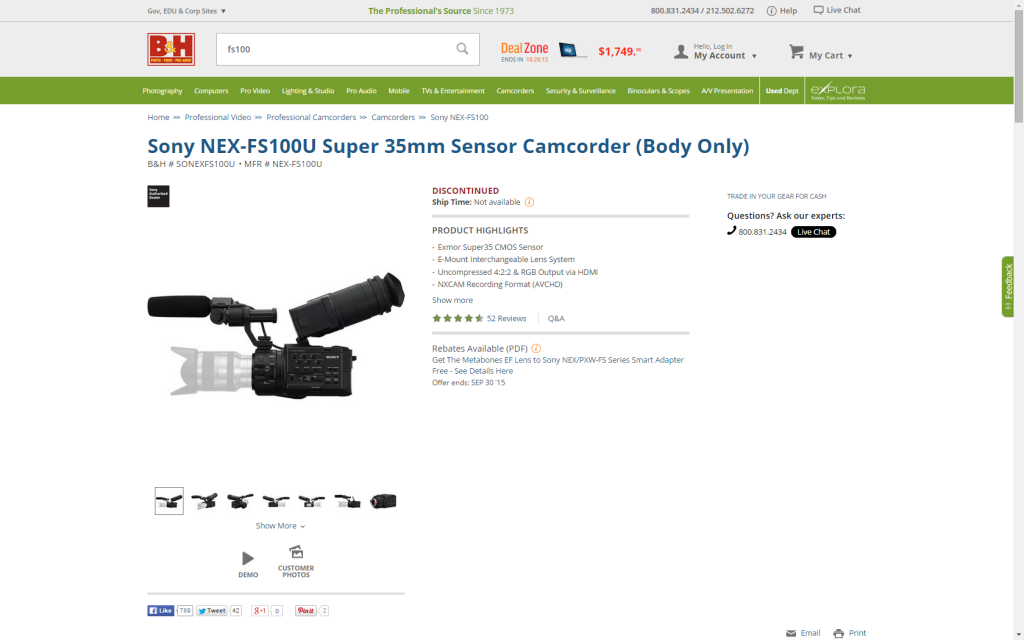 I just discovered the Sony FS100 is marked as discontinued:
http://www.bhphotovideo.com/c/product/761578-REG/Sony_NEX_FS100U_NEX_FS100E_Super_35mm_Sensor.html
http://www.bhphotovideo.com/c/product/761580-REG/Sony_NEX_FS100UK_NEX_FS100U_Super_35mm_Sensor.html
Can't buy it at all from B&H, hopefully that means a "FS1" is just around the corner??
Is marked as "closeout" at Adorama:
http://www.adorama.com/sonexfs100u.html
http://www.adorama.com/sonexfs100uk.html
Amazon (which has Adorama listed in their marketplace) states only 15 units are left:
http://www.amazon.com/Sony-NEX-FS100U-Sensor-Camcorder-Recording/dp/B00796NCY4/
http://www.amazon.com/Handycam-NEX-FS100UK-Digital-Camcorder-CMOS/dp/B006J7AUW6/
It is not hard to see why they're bringing to an end selling the Sony FS100, as even after its price drops, you could still buy for the same kind of money the revolutionary Sony A7s new or the awesome Sony PMW-F3 refurbished (which is the one I own, is a great camera!).
This strongly indicates that a successor for the Sony FS100 could be heading our way, a new E mount camcorder which is priced below the Sony FS7. This makes sense too from a timeline perspective for when the model should be refreshed, as the FS100 has been around for a long time (not as long as the F3, but that has been replaced already by Sony PMW-F5, but the FS100 has been around longer than the FS700 which has for all intents and purposes been replaced by the FS7)
Often people express a wish for a "full frame" camcorder with the Sony A7s sensor in it. But I don't necessarily need a Sony NEX-VG900 with an A7s sensor in it.
I'd be quite happy for an "FS1" to come along to replace the FS100, just like the FS7 "replaced" the FS700.
Its specs could be:
Same form factor as the FS7 is (but even lighter??), and not shaped like the FS100/FS700!!
FHD 422 10bit XAVC
Slow motion of 120fps at FHD
Sticking with SD cards please (not XQD)
4K 420 8bit at 24/25/30 (maybe if lucky 4K 422 10bit over SDI?)
2x SDI
3 stage internal ND filters
S-log 2 / S-log 3
Reuse the same sensor as is currently in the FS700
Priced same as a JVC GY-LS300
I'd buy one of these.
And its specs/price makes it a very attractive upgrade for FS100 owners (or even Sony F3 owners like myself! Even a FS700 owner might consider this as an interesting sideways move).
And of course it will attract lots of interest from other non-Sony owners too, such as C100/C300 users, AF100 users, and BMD camera owners. And every DSLR/MILC shooter will of course be attracted to it!
Yet at the same time I believe it has a sufficiently restrained specs/price mix that FS7/F5/FS700 owners won't get outright pissed about it being released (like the FS7 did to F5 owners…).